V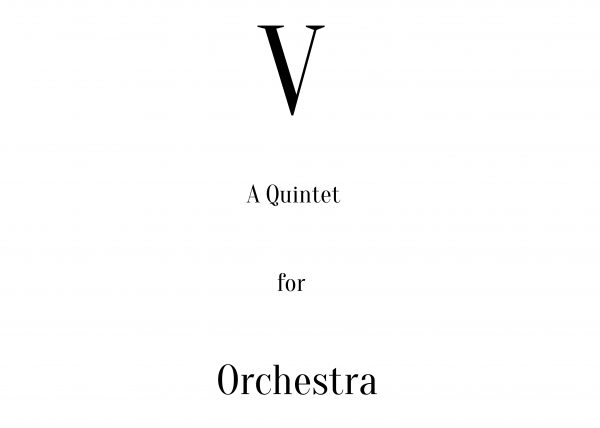 ORCHESTRA
Woodwind
3 Flutes (3rd doubl. Picc.)
3 Oboes (3rd doubl. E.H.)
3 Clarinets in Bb (3rd doubl. B. Cl.)
3 Bassoons (3rd doubl. D. Bsn.)
Brass
4 Horns in F
3 Trumpets in C
3 Trombones
1 Tuba
Percussion (5 players)
1. Timpani
2. 4 Tom-toms (6″, 8″, 10″, 12″)
3. 4 Tom-toms (8″, 10″, 12″, 13″)
4. 4 Tom-toms (10″, 12″, 13″, 14″)
5. 4 Tom-toms (12″, 13″, 14″, 16″)
Piano
Harp
Strings
Violin I
Violin II
Viola
Violoncello
Double Bass (Tutti 4-str w/ ext – low D)
The Orchestra Position & The 5 Groups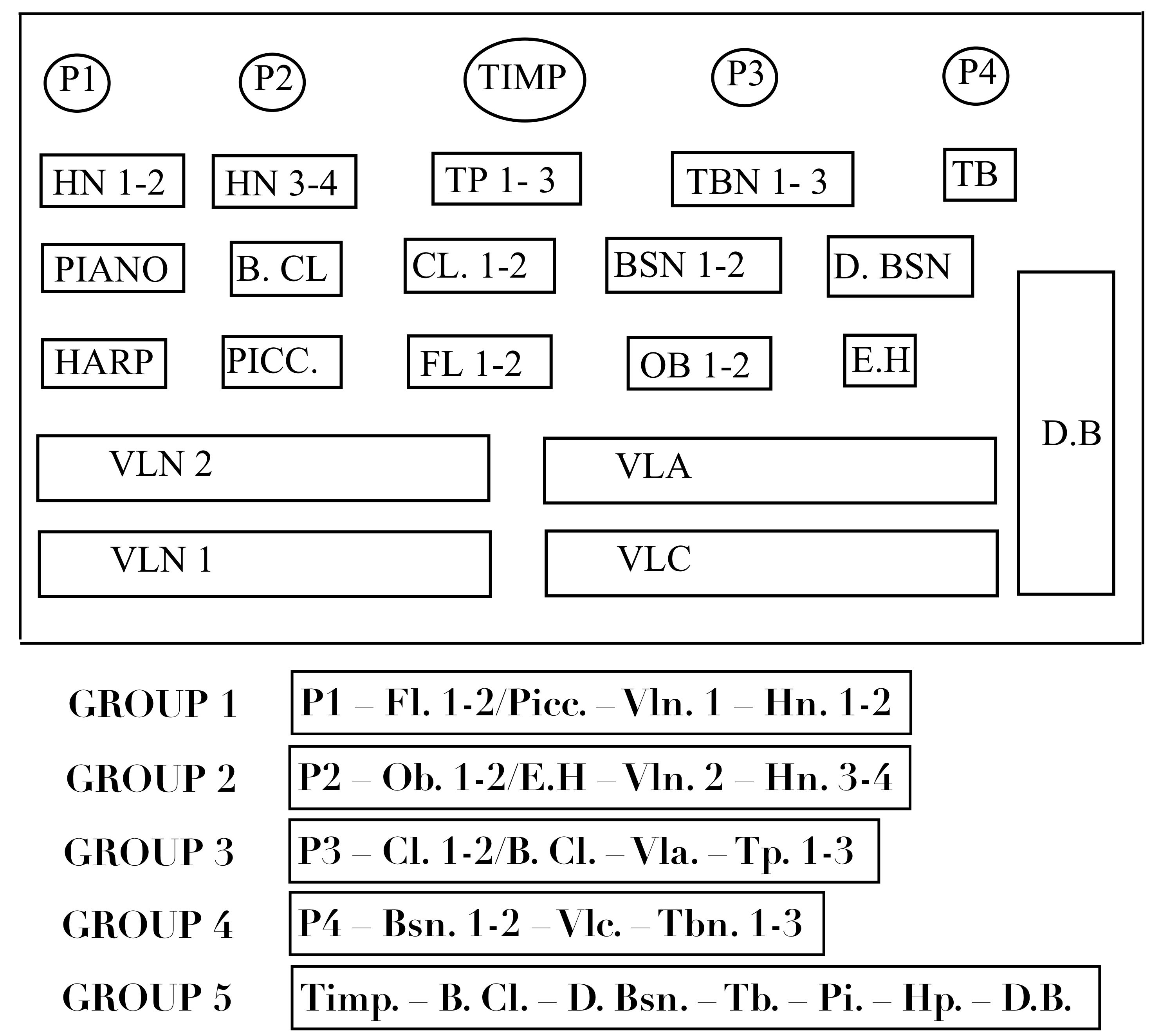 Program Note
V is still a mystery. Ever since the first rumour around 1963, we're still not sure what V is – A place? A structure? A condition? The spirit of age? History as a wave of repeating Vs? History itself?
"I am every lonely railway station in every capital of Europe. I am the street, the fanciless buildings of government, the clockwork figure, the street saxophone, the tourist-lady's hairpiece, and the travelling clock, which always tells the wrong time and chimes in different keys." (T.P)
Can V be music? How does V sound? Is it a musical quest without resolution? Yet another remarkably scattered concept? Where the listener automatically treats the works as puzzles, wondering where all the pieces fit? In one piece.
My reflections on V became a quintet for orchestra, with its fundament based on numbers in various sets. The main structure is based on the flexibility of a yo-yo string – divided into 17 parts with 17 continuous decreasing tempo markings.
The orchestra is divided into the city's 5 boroughs; where in the 4 instrumental categories (winds, brass, percussion and strings) are represented in all 5 groups. Piano, harp and piccolo flute are infidels. In this context. The harmony is without exceptions based on 3 major chords: D, F and G flat. It's written from left to right. In one movement. And it will be over in let's say 20 minutes. And it might as well be lost to any sense of continuous tradition.
The 5 groups & The 4 notes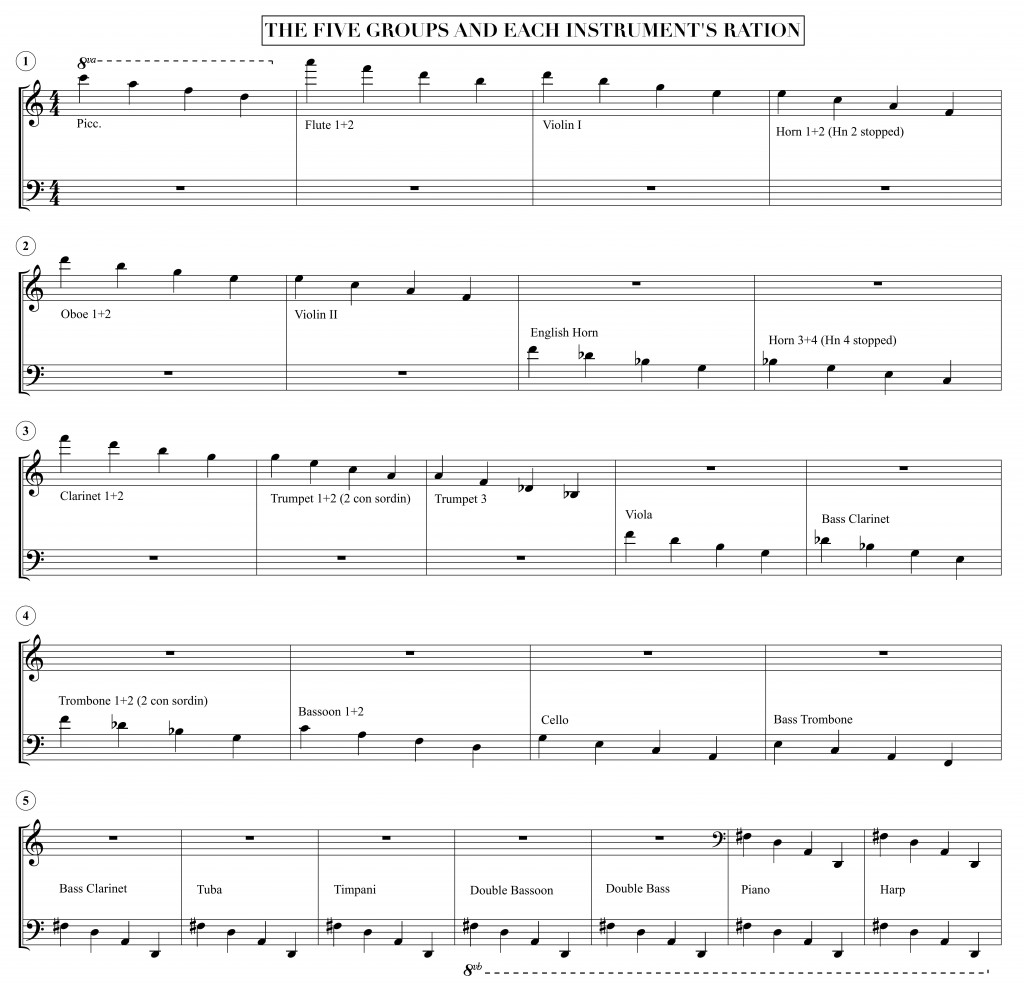 The 17 Rehearsal letters & Chapters
| | | | |
| --- | --- | --- | --- |
| | Title | Bar | Tempo |
|   A | The human yo-yo | 25 | 156 – 134 |
|   B | The whole crew | 49 | 120 – 112 |
|   C | The eight variations | 72 | 104 |
|   D | The structured surgery | 91 | 104 |
|   E | Going down, and to the left | 118 | 104 |
|   F | Returning to the main level | 136 | 104 |
|   G | Hanging on the left side | 153 | 96 |
|   H | The yo-yo again and a new song | 171 | 88 |
|   I | Another story | 193 | 88 |
|   J | Various sets gathering | 208 | 76 |
|   K | A confession almost half way through | 229 | 72 |
|   L | The not so amusing part | 250 | 69 – 66 |
|   M | Explaining the yo-yo part | 275 | 66 |
|   N | The part about V | 298 | 63 – 60 |
|   O | The part about S | 336 | 56 |
|   P | Ending up | 360 | 52 – 48 |
|   Q | Epilogue (1919) | 389 | 44 |
Duration
Approx. 21 minutes
Berlin, 29.10.2014