Broken Piece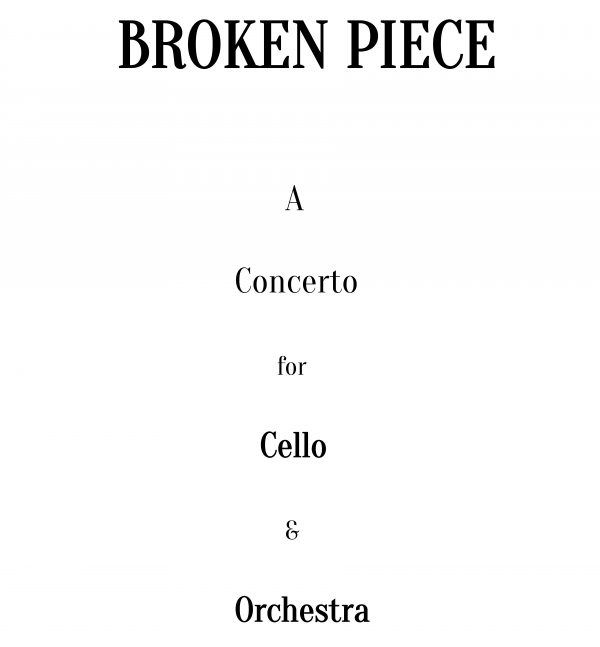 Orchestra
Woodwinds
2 Grand flutes
1 Piccola
2 Oboes
1 English Horn
2 Clarinets in Bb
1 Bass Clarinet in Bb
2 Bassoons
1 Double Bassoon
Brass
4 Horns in F
2 Trumpets in C
2 Trombones
1 Bass Trombone
1 Tuba
Percussion
P1: Timpani (5) + Chimes + Gran Cassa
P2: Glockenspiel + Vibraphone + Xylophone + Cymbal (bow)
P3: Crotales + Snare Drum + Temple Blocks (5) & Wood Block (1)
P4: Vibraphone + Marimba (5 oct) + Cymbal (bow)
Harp
Celesta
Violoncello solo
Strings
Violin I
Violin II
Viola
Violoncello
Double Bass
Program note
Triumph of Failure is in 2015 an ongoing cross-disciplinary art project gathering an initiating composer with a director, actor and a chamber ensemble, with the theme [Exhaustion] as an initial position. The resulting work is primarily thought of as a radio play for the Swedish and Norwegian public radio. It will then also be presented as this separate work- Broken Piece – a concerto for cello and orchestra.
The work has its starting point in two historic events in Düsseldorf, Germany between 1852-1854. Within these two years, the Norwegian painter Lars Hertervig was a young, talented student at the Art Academy, trying to cope with his gradually increasing mental illness, which thereafter came to mark his whole life. Hertervig's experiences are portrayed by the Norwegian writer Jon Fosse in the novel Melancholia (1999) – a monotone, manic monologue of great power and personal depth, which tries to capture an increasing state of schizophrenia.
During this time period in Düsseldorf, Robert Schumann tries to commit suicide, is rescued and taken to a mental hospital where he came to end his days. The musical fundament in Broken Piece is based on chosen fragments in Schumann's late piano music, which is characterized by intensive, exhausting lines that are suddenly broken by similar but contrasting lines – a very interesting compositional technique seen in the light of our modern music rather than the existing norms of Schumann's romantic era.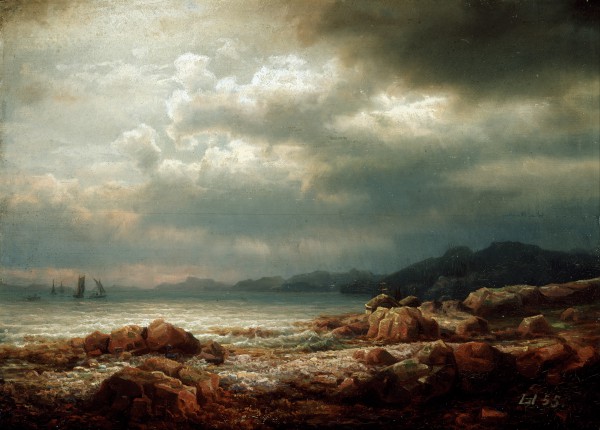 Hertervig & Fosse
The Norwegian artist Lars Hertervig (1830-1902), were born on the island of Borgøya, southwest of Haugesund on the Norwegian west coast. In his teens, he was hired as a painter apprentice at a shipping company in Stavanger. The Company's owner Hans Gabriel Buchholdt Sundt soon discovers proficiency in his work and therefore decides to support an education at the academy of art in Christiania (Oslo). On a visit to Christiania, professor Hans Gude of the Art Academy of Düsseldorf, is stunned when introduced to Hertervig's skills and thus offers him exchange studies in Germany, directly supervised by Gude himself. During the two years when Hertervig lives in Düsseldorf, the first indications of depression are found. The symptoms gradually increase and develop into traits of paranoia and hallucinations.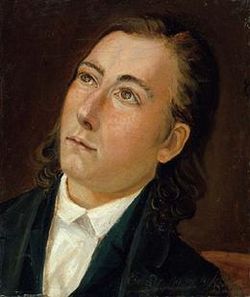 Melancholia (1999), a novel by the Norwegian writer Jon Fosse (b. 1959 in Haugesund), is principally an attempt to write one self into another person. The literary material is based on actual years, situations and geographical locations in Hertervig's life, but the history retold is an interpretation of the inner state of the main character. As a reader, you follow close behind Hertervig, or rather Fosse and his attempts to initially observe from a distance and the gradually move closer and incorporate himself into his alter ego and in that way delineate possible scenarios in the life of Hertervig – from an initial phase of hubris with streaks of paranoia, furthermore downhill to banishment, degradation and destitution. But where the art and the need for expression constantly are present, irrespective of context.
Personally, the language and the stylistic grip struck me. The manic and the repetitive that now and then verge on worthlessness; it's a kind of an anti-text without any proper content, with some literary references to Beckett. Not with the aim to reach the absolute zero of language but rather to translate thoughts and symbols into a language that flows in minor variations but without interruption – a manic energy, which solely can come to an end through exhaustion or medication, or both. And it was in these flowcharts that Schumann made his entry.
Schumann & The Triumph of Failure
On February 27th 1854, Robert Schumann (1810-1856) tries to commit suicide by drowning himself in the Rhine, in Düsseldorf. He was spotted by some fishermen that managed to drag him out of the ice-cold water whereupon he annoyed jumps back into the river, but this second time his rescuer use force and brings him back to the shore. Following this incident he voluntarily places himself at the Dr. Franz Richars Sanitarium, where he deceases two years later. A modern way to explain his death would be that it more than likely was the result of many years of suffering from syphilis. In those days the patients took mercury as painkiller, which strongly influenced their general judgment, and the actual cause of death could have been an overdose of mercury, in addition to a heavy misuse of morphine and alcohol.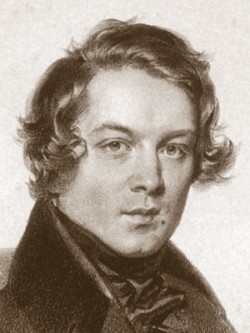 During his professional career, Schumann composed over hundred works for piano. His ultimate strive was to become a lineal descendant from Beethoven and Schubert; the two titans of classical music according to Schumann. But there was one crucial deficiency that had an irrevocable effect on the outcome – he simply didn't possess an equivalent talent. According to the existing norms of that time period along with his own statements, he fails with several of his compositions since he don't master that modulation-, and variation technique, which his forerunner so exquisitely gave proof of. This "defect" resulted in a music filled with interruptions, fermatas and unclear transitions instead of cadences and resolutions according to the logic of traditional harmony – an overthrow and undermining of personal ambition as well as the surrounding standard. But in this so-called failure or inability there was simultaneously an extraordinary quality and originality, his limitations lead to a unique and inimitable music, and this artistic failure could possibly have had a greater importance for the development of our music history and tradition than normally considered.
There's a parallel side to Schumann's shortcoming and that refers to the pathological picture; its increasing visibility and how the medication started to leave marks on him. In a modern reconstruction of his deed, you get inkling in the change via his late attempts to retouch these above-mentioned piano works. During his last years he tries to recompose parts by comprising cadences and resolutions and in that way erase what he himself considered to be mistakes. But this led instead to an obvious deterioration of the works and the progressiveness that he – more or less unconsciously – contributed with.
Broken Piece
Jon Fosse's text – the language and formal structure – displayed major musical qualities in my reading. Shortly after, I coincidentally fell over some piano pieces by Schumann (Novelettes) and realised that the two (the text and the music/Hertervig and Schumann) were linked together and that I here had the very fundament for a new work on the theme exhaustion. Broken Piece is based on broken or interrupted parts, which via a manic persistence expresses rapidly shifting symbols of thematic idea as well as the two main character's inner struggle, and rather often with a speed verging on the intolerable, which result in mental exhaustion and implosion. The starting point for my conceptual compositional working conditions was to reach a performative state of exhaustion. I ascribed myself and my creative moments varying rules, which all were based on different degrees of exhaustion, for instance to force yourself to work a certain amount of hours without interruption, or simply until I was ready to drop by fatigue.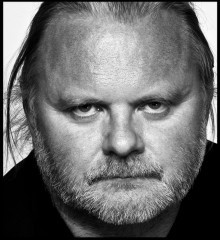 This is what I refer to as the Dialogue. In writing and thinking: Fosse gradually writes himself closer to Hertervig, initially starting a dialogue that sooner or later after moving close by transforms into his own monologue. In music: I write myself closer to Schumann, start and carry on a conversation, in which I try to understand his and mine relationship to triumph and failure. These are the (minor) cavities that history is carrying and I am of the opinion that these stories are important; they must be taken care of, be brought into our time and thus further on. Our shared (art) history must be uncovered to be able to be understood, and the result could on the one hand turn into parasite art if it comes to the worst but on the other work as an immensely healing factor. If our contemporary art more often would investigate the cracks and register the disintegration, I believe that we – at least individually – can reach a reconciliation and move spirally upwards and not only onwards, when and if we put things in relief and in relation.
Duration
17 min.
Paris – December 2016